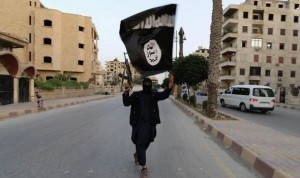 (Reuters) – A Michigan man seized overseas by a U.S.-backed Syrian militia has been charged with providing material support to Islamic State militants, the U.S. Justice Department said on Tuesday.
Ibraheem Izzy Musaibli, 28, of Dearborn, Michigan, provided support to the group from 2015 until last month, the department said in a statement. Musaibli, a natural-born U.S. citizen, will be arraigned in federal court in Detroit on Wednesday, it said.
U.S. prosecutors in Indiana said Musaibli was transferred from the custody of the Syrian Democratic Forces along with a U.S. woman, Samantha Elhassani, who has been charged with making false statements to the FBI.
Elhassani was accompanied by her four minor U.S. citizen children, who were placed in the care of the Indiana Department of Child Services, the U.S. Attorney's Office for the Northern District of Indiana said in a statement.
Both defendants arrived in Indiana on Tuesday. Musaibli was transferred to Michigan, and Elhassani, also known as Samantha Sally, will appear in federal court in Hammond, Indiana, at a later date, according to the statement.
The New York Times said last week that Musaibli was captured by the Syrian Democratic Forces in northern Syria earlier in July as he tried to escape the Middle Euphrates River Valley, where the group has been working to drive Islamic State militants from one of the last areas they control.
The man's younger brother said he believed Musaibli was innocent, the Detroit News reported on Tuesday.
"I don't just believe he's innocent. I KNOW he's innocent," Abdullah Musaibli said via Facebook Messenger, according to the newspaper. Musaibli will have a court-appointed lawyer, the brother said.
Abdullah Musaibli said last week his brother was not a terrorist and that he had been lured by fellow Muslims into going to Syria to study religion and to work, the Detroit News said.
(Reporting by Mohammad Zargham in Washington and Nate Raymond in Boston; Editing by James Dalgleish and Peter Cooney)
The post Michigan man seized overseas charged with providing material support to Islamic State appeared first on Faith Matters.
Categories: Daesh, Detroit News, Islamic State, News, Syria, Syrian Democratic Forces, terrorism, The New York Times, US