Faith Matters has been at the vanguard of writing about entryism by far right groups from Poland, who are seeking to access members of settled Polish communities in the United Kingdom. The aim is pretty simple. With over 700,000 settled members of Polish communities in the country, they make an accessible and ready pool of potential volunteers, supporters and donours to the extreme causes of such groups. It really is as simple as that.
We have written extensively about groups like Ogniwo, Leszek Żebrowski, Grom Legion, Janus Korwin-Mikke (and his group – Liberty), and the neo-fascist ONR. The comments and actions of such groups and individuals run contrary to the pluralism and the tolerant values that are part and parcel of our country.
Today, we can exclusively reveal that in January 2017, many of these groups signed a letter of alliance or partnership which is chilling. It was signed in Hammersmith in London and includes neo-fascist groups, ONR (Oboz Narodowo-Radykalny) and Ogniwo.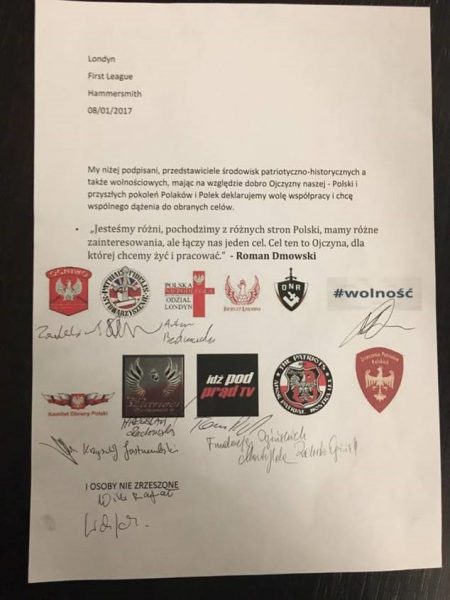 The document reads:
"We, the undersigned, the representatives of patriotic and libertarian circles, bearing in mind the greater good of our Fatherland – Poland, and the next generations of Polish men and women, declare the will to cooperate and the will of mutual pursuit of our common goals."
It is then followed by a quote by a Polish nationalist leader from the 1930s, Roman Dmowski:
"We are different, we come from different parts of Poland, we have different interests but we are united in a common goal. This goal is the Fatherland, for which we want to live and work."
It is ironic that the agreement was signed in London, when the groups want to live and work for the 'Fatherland' – Poland. A picture of the signatories and list of groups is highlighted below. 
This is clearly a worrying development, given some of the groups involved and the ideology of them. It also further adds to our argument that resilience, or rather the lack of it within Polish communities, means that many of these groups can conduct entryism for influence, pretty easily.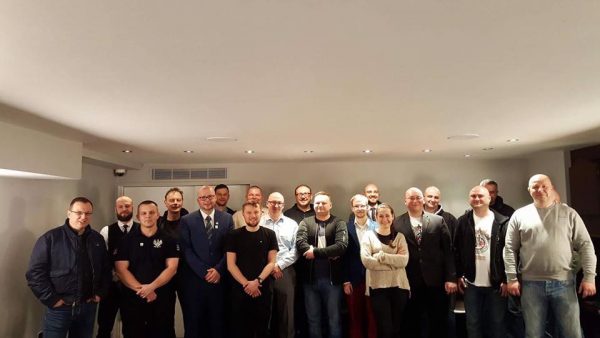 List of Groups Who Signed
Ogniwo
Patriae Fidelis
Independent Poland
Fides Et Libertas
ONR
Liberty (Janusz Korwin-Mikke's party)
Commitee for the Defense of Poland
Patriots of the Republic
Against the Tide
The Patriots
Polish Patriots Association
The post Exclusive – An Alliance of Groups that Should Worry Us in the UK appeared first on Faith Matters.
Categories: Alliance, Grom Legion, Janus Korwin-Mikke, Leszek Żebrowski, nationalism, News, Oboz Narodowo-Radykalny, ONR, Polish, Polish groups