Members of the Polish community have expressed concerns about the antisemitic and anti-Muslim views of a radio host who is sponsoring a cultural event on January 27 in London.
Piotr Szlachtowicz, who hosts the online radio show 'The Nowy Polski Show', has described Islam as a 'murderous ideology', a 'Nazi ideology', and ranted about the so-called 'Islamisation' of Luton.
When describing a visit to the high-street retailer Primark, he remarked: "I felt like I was in Asia, women with covered faces, white people were a minority."
Translations of his speeches were provided to Faith Matters as part of our ongoing research into far-right elements among Polish communities here in the UK, and in Poland.
His radio show has broadcasted shows titled "Why do Jews Hate the Poles!?", "Jews started a war against Poland and Poles!", and "How Jews spit in Poland's face!".
On January 29, 2018, Szlachtowicz interviewed the disgraced former priest Jacek Międlar, in a show titled "Jews have taken their masks off". Międlar has on two occasions, attempted to enter the UK to speak at far-events but was detained at the airport and denied entry on both occasions due to his racist, anti-Muslim, and antisemitic views. Further examples of his hateful views appear in the Faith Matters report The Changing Face of Hate in Poland: From Antisemitism to Anti-Muslim Racism.
It was during his appearance on The Nowy Polski Show that Miedlar claimed: "The Talmud, a fundamental book for Jews, is a book of hate, racism and xenophobia and, as a Christian, it is my mission to educate people that we are threatened by hate and exploitation."
Międlar then added, "I thought I was going to the UK, not to Israel", and that Border Force officers were, in fact, 'Jewish Special Branch'.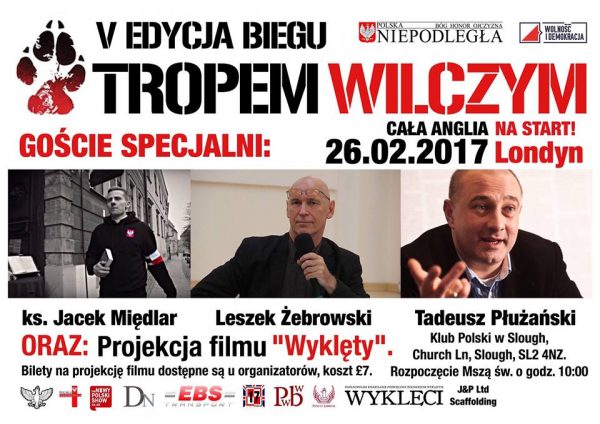 Szlachtowic's radio show sponsored an event in Slough which listed Jacek Międlar as a keynote speaker, another speaker listed was Leszek Żebrowski, a controversial historian who has links to the neo-fascist National Radical Camp (ONR) group in Poland.
Nor is Szlachtowicz above indulging antisemitic conspiracy thinking. When he appeared on the online far-right media outlet wRealu24, on April 30, 2018, he said: "I was initially very sceptical about claims that Jews are taking over Poland or that they are actually ruling Poland.
"Although I was aware that after World War II the communist Secret Service comprised mostly of people of Jewish origin, but those claims were not convincing to me and I didn't even feel like debating them.
But to be honest, the thing that woke me up was the speech of Ambassador Azari and then the wave of orchestrated hate campaigns about Poles allegedly being responsible for the Holocaust, etc. So, I think we're done and dusted now."
The host of this wRealu24 show is Marcin Rola, who appeared in an investigation by Newsnight last year which found that the Polish Embassy in London had part-funded an event that gave a platform to far-right extremists.
Watch as @BBCNawalMaghafi confronts Polish far-right journalist Marcin Rola about hate speech #newsnight pic.twitter.com/g6791oFhjK

— BBC Newsnight (@BBCNewsnight) June 25, 2018
Rola has made several hateful comments about Islam and Muslims, including "in Islam, paedophilia is their daily bread".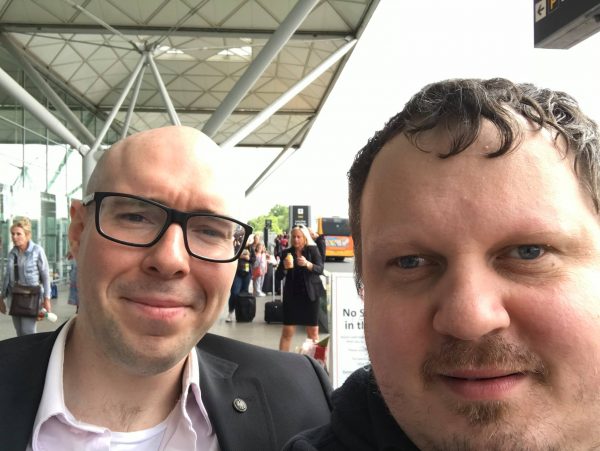 He was photographed with Szlachtowicz in Leeds last June. Both men appear together in a photograph shared on Rola's Facebook page on November 15, 2018.
The conspiracy thinking of Szlachtowicz also extends to Muslims. In December 2017, he wrote: "Muslim community leaders speak about love and peace officially, but it has been proven beyond any doubt that it's just a cover. In a few significant places, Muslims have already taken power. There are really large areas outside London where they democratically enforce their laws and way of life on others."
He also claimed, "Terrorist attacks are not incidental, it's a planned war aimed at destabilising the UK and showing the non-Muslim part of society that Muslims are taking over and their rules will soon reign in the whole of the country." He added, "soon the Islamic crescent will hang over all of the UK."
On the Facebook page of Piotr Szlachtowicz, Faith Matters found pro-Tommy Robinson content.
And, among the names on his friend's list, includes Kristof Jastrzembski, secretary of Komitet Obrony Polski UK, or the Committee for Defence of Poland UK, which has campaigned for the release of the notorious Szlachtowicz Polish white supremacist who murdered an anti-Apartheid activist in South Africa in 1993 in hopes of triggering a race war.
Regarding the far-right terrorist Darren Osborne, Szlachtowicz opined: "I try to understand a normal Brit who has been hearing for months that Islamist murders of innocent people couldn't be named for what they were. Media and politicians have been denying reality in the name of political correctness, trying to explain the motivation of terrorists instead of condemning the guilty.
This state of affairs had to affect indigenous Brits. Their frustration grows and the government's helplessness and political correctness breed this kind of situations. Someone is depriving Brits of their own country, telling them they have to accept it."
Other examples of hate speech shown to Faith Matters includes Szlachtowicz referring to refugees as, "a horde of savages who think they are entitled to everything and can't be punished for any crime".
Faith Matters is indebted to members of the Polish community for their translations, and working to expose far-right extremists, Facebook pages like Wszyscy Równi UK, are countering such messages online.
The post Concerns raised over event sponsored by far-right Polish radio host appeared first on Faith Matters.
Categories: News